Tommy Mottola
WHO:         Honoree: Tommy Mottola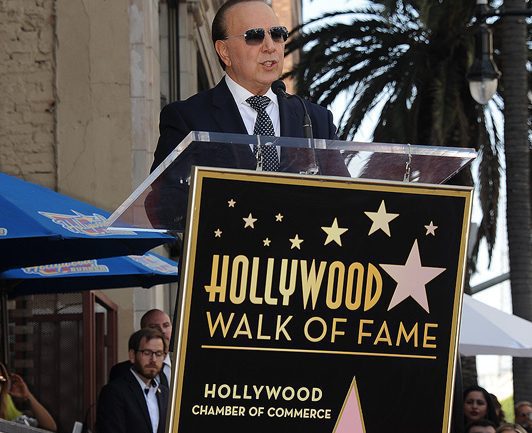 WHAT:       Dedication of the 2,676 Star on the Hollywood Walk Of Fame in the Category of Recording
WHERE:    6270 Hollywood Boulevard
 WHEN:      October 10, 2019 at 11:30 A.M. PDT
The Hollywood Chamber of Commerce honored music mogal Tommy Mottola with the 2,676th Star on the World Famous Hollywood Walk of Fame, in the Category of Recording, on October 10, 2019, in Los Angeles. The star will be dedicated in the category of Motion Pictures at 6270 Hollywood Boulevard, near the star of his wife, entertainer Thalia.
"Tommy Mottola is one of the most prolific music industry executives of our modern age," said Ana Martinez, Producer of the Hollywood Walk of Fame. Many of the artists he has worked with are Walk of Famers and now is his time to be honored with his own Walk of Fame star!" added Martinez.
Tommy Mottola, former Chairman and CEO of Sony Music Entertainment is one of the most influential executives in the history of the music industry. He currently heads the Mottola Media Group, a global media and entertainment company in New York City which includes live theater and television production. He is credited with discovering and guiding the careers of iconic artists such as Hall and Oates, Carly Simon, John Mellencamp, Mariah Carey, and Celine Dion. If that weren't enough, Mottola signed and developed Gloria Estefan, Ricky Martin, Shakira, Jennifer Lopez, and Marc Anthony in what TIME Magazine called the "Latin Explosion" in 1999.
Starting as a musician and an Epic Records recording artist at the age of eighteen, He returned twenty years later to run that very company as Sony Music Entertainment's global CEO. He revitalized Sony's publishing division by acquiring the music catalogues of The Beatles and Michael Jackson, and enabling Sony to become one of the first major labels to implement commercial digital downloads. In his tenure, he is credited with tripling the company's revenue, selling an estimated 8 billion CDs resulting in nearly 65 billion in sales and expanding Sony Music Entertainment's operation to over 60 countries around the world.
Mottola was able to create new and successful business models such as amphitheaters in a co- venture with PACE Concerts and creating the world's largest rock merchandising company, Sony Signatures, which today are all part of Live Nation Entertainment. He was instrumental in the inception and growth of SONY WONDER, a children's label, forging partnerships with Nickelodeon and Sesame Workshop.
He is a NY Times best-selling author for his memoir, "HITMAKER, the Man and His Music" (Hachette 2013). Tommy, more recently has produced Broadway's smash-hit musicals, Summer: The Donna Summer Musical, A Bronx Tale, Ground Hog Day, and Jersey Boys (off- Broadway), as well as the HBO documentaries, "The Latin Explosion" and "15: A Quinceanera Story."
Mottola is very involved in philanthropy. He has given of his time to the following groups:
United Jewish Appeal, National Italian American Foundation, City of Hope, Rock and Roll Hall of Fame Foundation and Museum. TJ Martell Center for Cancer, Leukemia and AIDs. He is on the Board of Directors of the National Center for Missing and Exploited Children.