MEDIA MOGUL BYRON ALLEN TO BE HONORED WITH STAR ON THE HOLLYWOOD WALK OF FAME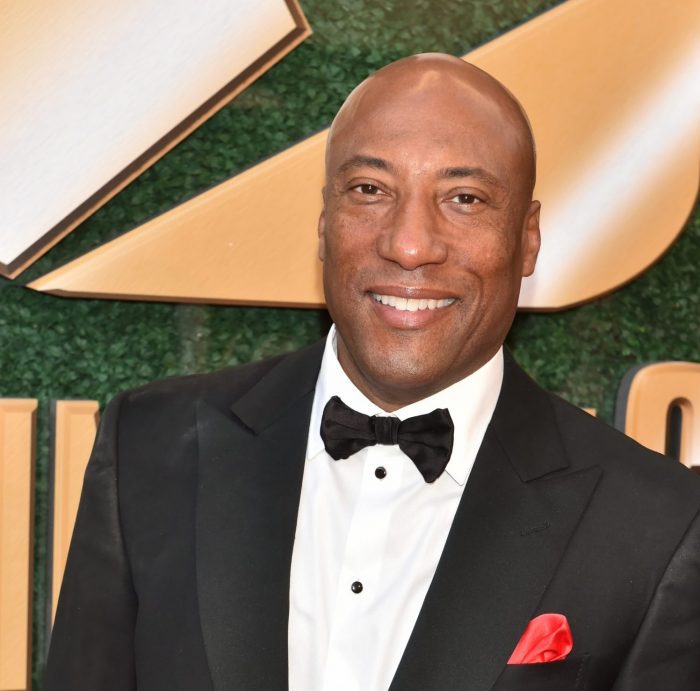 WHO:     
Byron Allen
Emcee: Hollywood Chamber of Commerce Chair Nicole Mihalka
Guest Speakers: TBA
WHAT: Dedication of the 2,706th Star on the Hollywood Walk of Fame in 
 the Category of Television
WHERE: 1749 Vine Street at the famous corner of Hollywood & Vine
WHEN: Wednesday, October 20, 2021 at 11:30 A.M.
The Hollywood Chamber of Commerce will honor Byron Allen with the 2,706
th
 star on the Hollywood Walk of Fame on Wednesday, October 20, 2021 at 11:30 A.M.
PDT. The star will be dedicated at 1749 Vine Street.
"Byron Allen has show business in his blood! His impressive career started as a young boy and just kept going. We are very proud to be able to pay tribute to Mr. Allen's stellar career and add his name to our iconic Hollywood Walk of Fame," stated Ana Martinez, Producer of the Hollywood Walk of Fame.
Joining Emcee Nicole Mihalka, Chair of the Hollywood Chamber of Commerce, to unveil the star TBA.
The Hollywood Chamber of Commerce, which administers the popular star ceremonies, encourages people who are unable to attend and fans around the world to watch the event exclusively on 
www.walkoffame.com
.
Byron Allen is the Founder, Chairman and CEO of Allen Media Group/Entertainment Studios. He was born in Detroit, Michigan. Following the assassination of Dr. Martin Luther King, Jr. and the urban civil unrest occurring in Detroit and other major U.S. cities that arose from that tragic event, Allen accompanied his mother, Carolyn Folks, on a vacation trip to Los Angeles that summer of 1968 to visit with family and friends. They ended up staying in Los Angeles permanently.
Allen's interest in show business began during his childhood, when he would accompany his mother to NBC Studios in Burbank where she secured a network internship, a job as a tour guide, and later as a network publicist.  Free to roam the NBC soundstages where his mother worked, Allen would sneak onto "The Tonight Show Starring Johnny Carson" set and sit behind Johnny Carson's desk and play talk show host. After encouragement from Carson himself, Allen took it one step further, and at age 14, put together his first stand-up routine and began performing on amateur nights at comedy clubs throughout the Los Angeles area. After one performance, comedian and "Good Times" sitcom star Jimmie Walker received word of Allen's act and decided to invite the budding 14-year-old comedian to join his comedy writing team alongside promising young and then unknown comedians Jay Leno and David Letterman. In 1979, at age 18, Allen made his national television debut on "The Tonight Show Starring Johnny Carson." Allen holds the distinction of being the youngest standup comedian ever to have performed on the show.  Watching Allen's network television debut were the producers of NBC's "Real People." The producers were so taken with Allen's comfortable, relaxed style that they made him an offer the very next day to co-host what would become the first reality-based program ever broadcast on network television.  He accepted, and "Real People" dominated the network's Wednesday night prime-time for five years.
Allen's experience hosting the show was his training ground for the business of television.  He traveled the nation with a crew and shot segments profiling real people across America's heartland. So while he was getting his feet wet as a television personality, he was also learning the ins and outs of television production.  The experience also prepared him to take on the business of advertising and syndication, which he learned by personally calling station owners, programming directors and advertisers, one-by-one and market-by-market. In 1993, Allen founded his television production and distribution company, Entertainment Studios (now called Allen Media Group). Headquartered in Los Angeles, Allen Media Group has offices in New York, Chicago, Atlanta, and Raleigh. Allen Media Group owns 32 ABC-NBC-CBS-FOX network affiliate broadcast television stations in   20 U.S. markets and twelve 24-hour HD television networks, including The Weather Channel, all serving nearly 180 million subscribers. Allen Media Group produces, distributes, and sells advertising for 68 television programs, making it one of the largest independent producers/distributors of first-run syndicated television programming for broadcast television stations.
In recent years, Allen was selected for the "Bloomberg 50" as one of "the people in business, entertainment, finance, politics, and technology and science whose accomplishments were particularly noteworthy." Allen was also selected twice for the "100 Most Intriguing Entrepreneurs" at the Goldman Sachs annual Builders & Innovators Summit. Allen was also the recipient of NATPE's 16th Annual "Brandon Tartikoff Legacy" Award. In addition, Allen was appointed as a board member of the National Association of Broadcasters, and also inducted into the "Broadcasting & Cable Hall of Fame."
Philanthropy and charitable activities are also at the forefront of Allen's life. For more than 20 years, he hosted the National Multiple Sclerosis Society's annual "Dinner of Champions" which raised more than $50 million. In addition, Allen was presented with the "Children's Inspiration Award" from the Los Angeles charitable organization A Place Called Home. Allen has been honored by the 
Salvation Army
, and he recently became a board member of the Motion Picture Television Fund – which offers a broad set of services to help support entertainment industry members in times of need. Allen is also on the board of Children's Hospital Los Angeles, and since 2017, has hosted his company's annual Oscar Gala – an Academy Awards viewing party held on Oscar night, continuously raising millions of dollars to provide pediatric health care and innovative research efforts that impact children at the hospital and around the world.
ABOUT HOLLYWOOD WALK OF FAME - 
www.WalkOfFame.com
The Hollywood Walk of Fame is an internationally-recognized Hollywood icon. With approximately 24-star ceremonies annually broadcast around the world, the constant reinforcement provided to the public has made the Walk of Fame a top visitor attraction. The Hollywood Chamber of Commerce continues to add stars on the Walk of Fame as the representative of the City of Los Angeles. The Walk of Fame is a tribute to all of those who worked diligently to develop the concept and to maintain this world-class tourist attraction. The Walk of Fame is a free event and is open to the public.  The sponsorship funds for this special honor are used to pay for the creation/installation of the star and ceremony, as well as maintenance of the Walk of Fame. Download the official app for iPhones and Android devices at 
http://officialhollywoodwalkoffameapp.com