HOLLYWOO WALK OF FAME CLASS OF 2024 TO BE ANNOUNCED IN LIVE PRESS CONFERENCE TO BE HELD AT THE ASTER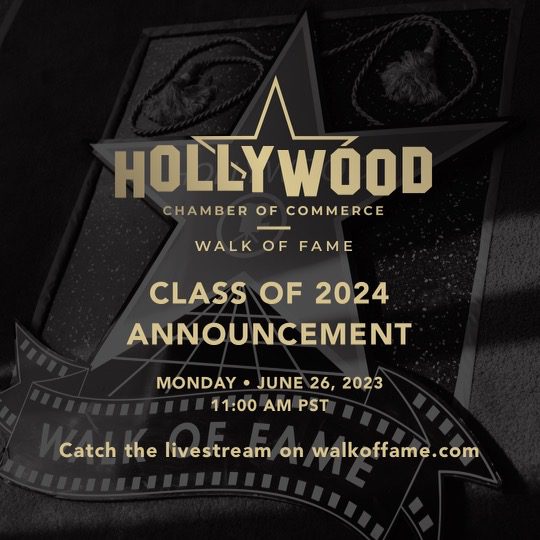 HOLLYWOOD, CA. June 22, 2023 —A new group of 31 entertainment professionals in the categories of Motion Pictures, Television, Live Theatre/Live Performance, Radio, Recording, and Sports Entertainment have been selected to receive stars on the Hollywood Walk of Fame. The Walk of Fame Selection Committee which is made up of past Walk of Famers selected these new honorees. These honorees were chosen from among hundreds of nominations and were ratified by the Hollywood Chamber's Board of Directors on June 21, 2023.
Ellen K, KOST Radio personality and Chair of the Walk of Fame Selection Committee will announce the new honorees at a press conference live-streamed from the rooftop of The Aster located at 1717 Vine Street.
The new selections will be revealed to the world via www.walkoffame.com beginning at 11:00 AM PT. on Monday, June 26, 2023. "The Selection Committee which is made up of fellow Walk of Famers, carefully hand-picks a group of honorees each year that represent various genres of the entertainment world," said Chair and Walk of Famer Ellen K, "The Committee did an amazing job choosing these very talented people. We can't wait to see each honoree's reaction as they realize that they are becoming a part of Hollywood's history with the unveiling of their star on the world's most famous walkway!" Ellen K added.
The Hollywood Chamber of Commerce and its Walk of Fame Selection Committee congratulate all the honorees. Dates have not been scheduled for these star ceremonies. Recipients have two years to schedule star ceremonies from the date of selection before they expire. Upcoming star ceremonies are usually announced ten days prior to the dedication on the official website www.walkoffame.com.