HOLLYWOOD CHAMBER OF COMMERCE TO HONOR ACTOR BENEDICT CUMBERBATCH WITH STAR ON THE HOLLYWOOD WALK OF FAME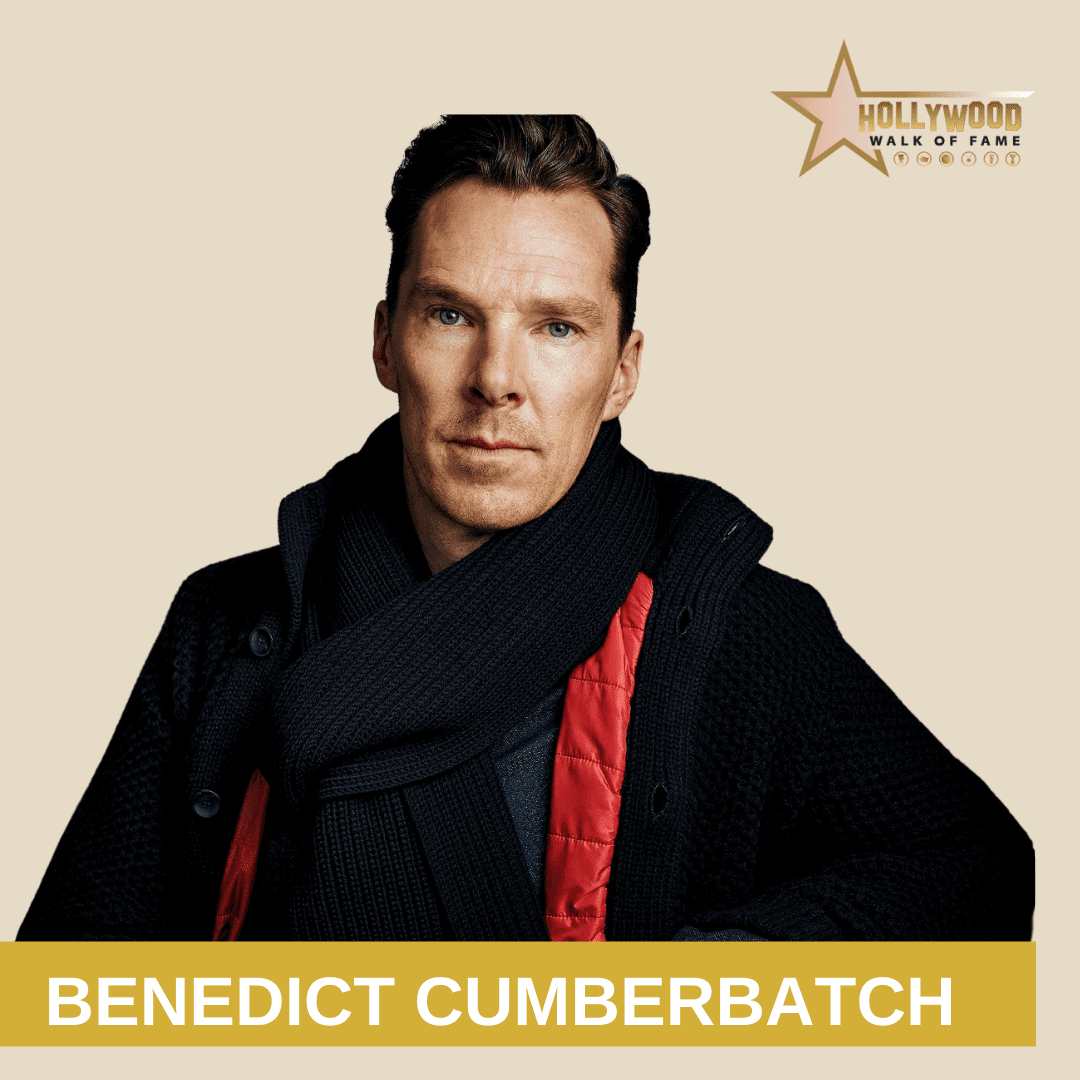 WHO: Honoree: Benedict Cumberbatch
Emcee: Hollywood Chamber of Commerce, Chair of the Board Nicole Mihalka 
Guest Speakers: Director J.J. Abrams and Kevin Feige President, Marvel Studios and Chief Creative Officer, Marvel
WHAT: Dedication of the 2714th Star on the Hollywood Walk of Fame in the category of   Motion Pictures
WHERE: 6918  Hollywood Boulevard
in front of The Line Store
WHEN: Monday, February 28, 2022 at 11:30 A.M. PST  
The event will be live-streamed exclusively on
www.walkoffame.com
COMMENTS:
The Hollywood Chamber of Commerce is proud to announce that actor Benedict Cumberbatch will be honored with the 2,714th star on the Hollywood Walk of Fame on Monday, February 28th at 11:30 a.m. PST. The star will be dedicated in the category of Motion Pictures at 6918 Hollywood Boulevard in front of The Line Store.
"Benedict Cumberbatch career spans across genres – he is one of England's prized exports and we are proud to welcome him to the Hollywood Walk of Fame," said Ana Martinez, Producer of the Hollywood Walk of Fame.  He joins many of his compatriots on our famed sidewalk of stars," added Martinez.
Joining Emcee Nicole Mihalka, Chair of the Board of the Hollywood Chamber of Commerce will be speakers are Director J.J. Abrams and Kevin Feige, President, Marvel Studios and Chief Creative Officer, Marvel.
The Hollywood Chamber of Commerce administers the popular star ceremonies and encourages people who are unable to attend and fans around the world to watch the event exclusively on
www.walkoffame.com
.
Academy Award nominee Benedict Cumberbatch has established himself as one of the most versatile actors of his generation with an array of emotionally searing and complex roles defining his body of work.
Cumberbatch can currently be seen starring in Jane Campion's Academy Award-nominated film THE POWER OF THE DOG alongside Kirsten Dunst and Jesse Plemons. For his portrayal of 'Phil Burbank,' he received Academy Award, BAFTA, SAG, Critics Choice and Golden Globe nominations. He also won 'Best Actor' from the New York Film Critics Circle. The film, which received twelve Academy Award nominations, including 'Best Picture', had its world premiere at the Venice Film Festival, followed by screenings at the Telluride Film Festival, Toronto International Film Festival, London Film Festival and New York Film Festival.
Cumberbatch will next be seen reprising his role as 'Doctor Strange' in Marvel's DOCTOR STRANGE IN THE MULTIVERSE OF MADNESS, releasing on May 6, 2022. The original film, released in 2016, grossed nearly $700 million worldwide.
Last year, Cumberbatch starred in Will Sharpe's THE ELECTRICAL LIFE OF LOUIS WAIN for Amazon Studios and StudioCanal. He also served as a producer through his production company SunnyMarch. The film, which premiered at the Telluride Film Festival, follows the English artist, Louis Wain, as he rises to prominence at the end of the 19th century. In 2021, he also appeared as 'Doctor Strange' in Jon Watts' SPIDER-MAN: NO WAY HOME, currently the sixth highest grossing film of all time.
Cumberbatch received Academy Award, Golden Globe, BAFTA and SAG Award nominations for his portrayal of 'Alan Turing' in Morten Tyldum's THE IMITATION GAME alongside Keira Knightley. The film received an Academy Award nomination for 'Best Picture' and the cast was nominated for a SAG Award in the category of 'Outstanding Performance by a Cast in a Motion Picture'.
He was also recently part of Sam Mendes' critically acclaimed film 1917 alongside George MacKay, Dean-Charles Chapman, Colin Firth and Mark Strong. The film follows two young British soldiers on a single day at the height of World War I and received numerous awards including an Academy Award nomination in the category of Best Picture. Additionally, the film won multiple BAFTA awards including 'Best Film' and 'Outstanding British Film of the Year' and received the Golden Globe for 'Best Motion Picture'.
Cumberbatch has starred in several Academy Award 'Best Picture' winning and nominated titles including Steve McQueen's 12 YEARS A SLAVE, Steven Spielberg's WAR HORSE, and Joe Wright's ATONEMENT alongside Keira Knightley and James McAvoy. Additional film credits include Peter Jackson's THE HOBBIT Trilogy, JJ Abrams' blockbuster STAR TREK: INTO DARKNESS alongside Chris Pine, Scott Cooper's BLACK MASS alongside Johnny Depp and Dakota Johnson, John Wells' AUGUST: OSAGE COUNTY, Thomas Alfredson's TINKER TAILOR SOLDIER SPY, and Justin Chadwick's THE OTHER BOLEYN GIRL. He has lent his voice to animated titles such as Andy Serkis' MOWGLI: LEGEND OF THE JUNGLE, alongside Christian Bale and Cate Blanchett for Netflix, Yarrow Cheney and Scott Mosier's THE GRINCH for Universal Pictures, and Eric Darnell and Simon J. Smith's PENGUINS OF MADAGASCAR for Twentieth Century Fox.
On television, he appeared as 'Dominic Cummings' in the Emmy and BAFTA TV Award-nominated BREXIT: THE UNCIVIL WAR. In 2018, Cumberbatch starred in David Nicholls' PATRICK MELROSE for Showtime and SKY TV, for which he won a BAFTA TV Award, and received Golden Globe and Emmy nominations. The series also garnered a BAFTA Award and Emmy Award nomination. Cumberbatch rose to international stardom in the critically acclaimed BBC series SHERLOCK, which wrapped its fourth season in 2017. For his starring role, Cumberbatch won a Primetime Emmy Award in 2014 and received three Emmy nominations, three BAFTA TV Award nominations, two SAG Award nominations and three Critics Choice nominations. In 2016, Cumberbatch's depiction of 'Richard III' in the BBC's THE HOLLOW CROWN garnered a BAFTA TV Award nomination in the category of 'Best Leading Actor.' The series was also nominated for a BAFTA TV Award in the category of 'Best Mini-Series. Additional television credits include his incredibly powerful performance as 'Stephen Hawking,' in the BBC's highly acclaimed drama HAWKING for which he earned his first BAFTA nomination. He received a second BAFTA nomination in 2010 for his portrayal of 'Bernard' in the BBC adaptation of 'SMALL ISLAND'. Cumberbatch also received an Emmy nomination for his portrayal of 'Christopher Tietjens' in Tom Stoppard's BBC/HBO drama PARADE'S END based on the acclaimed novel.
In theatre, Cumberbatch starred in HEDDA GABLER, playing the role of 'George Tesman' at the Almeida Theatre. He reprised his role at the Duke of York's Theatre marking his West End debut. For his performance, he received a Laurence Olivier Award nomination and won the Ian Charleson Award. Cumberbatch also starred in FRANKENSTEIN at the Olivier National Theatre for which he portrayed 'Victor Frankenstein' and his 'creature' on alternate nights. For this role, he received the Laurence Olivier Award, the Evening Standard Award, and the Critics' Circle Theatre Award. Additional West End credits include Shakespeare's HAMLET at the Barbican Theatre. For his portrayal of the titular character, he earned his third Laurence Olivier Award nomination.
In 2013, Cumberbatch established his production company SunnyMarch alongside his producing partner Adam Ackland. Their upcoming slate covers a variety of projects for television and film including LONDONGRAD, WAR MAGICIAN, THE 39 STEPS and END WE START FROM. He is also producing and starring in Justin Kurzel's MORNING alongside Laura Dern and Noah Jupe. Cumberbatch also starred in and produced Kevin Macdonald's THE MAURITANIAN, opposite Jodie Foster and Tahar Rahim. The film, which was released by STX, received a 2021 BAFTA nomination for 'Best Film'. For their performances, Foster won a Golden Globe award and Rahim received a Golden Globe nomination. Additionally, Cumberbatch starred in and produced Dominic Cooke's THE COURIER, alongside Rachel Brosnahan, for Lionsgate. He was also featured in and served as narrator for SunnyMarch's documentary WALK WITH ME.