Lucy Liu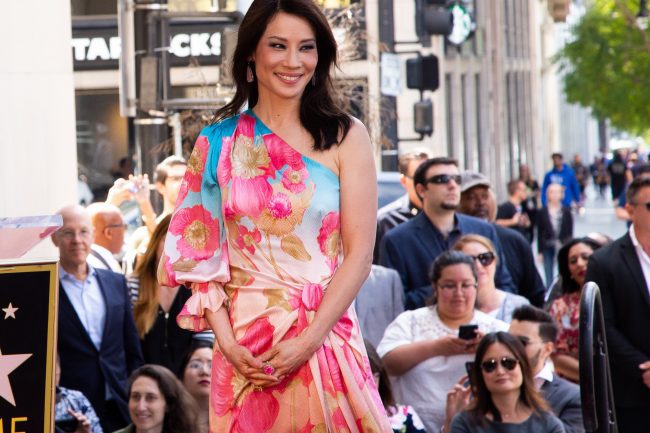 The Hollywood Chamber of Commerce has honored actress Lucy Liu with the 2,662nd Star on the World Famous Hollywood Walk of Fame, in the category of Television, on May 1, 2019, in Los Angeles.
"We are excited to honor Lucy Liu and we placed her star next to the star of Anna May Wong, the first Chinese American actress to grace Hollywood's film screens. When we place Walk of Fame stars, we love to juxtapose Hollywood's golden age icons with the role models who represent the exciting shifts taking place in the film industry whenever we can," said Ana Martinez, Producer of the Hollywood Walk of Fame.
Helping Emcee Rana Ghadban, President & CEO of the Hollywood Chamber of Commerce to unveil the star will be Walk of Famer Demi Moore and Rhea Perlman.
Lucy Liu is a critically acclaimed actress who has starred in film, television and on Broadway.
For seven seasons, Liu co-starred in the highly praised drama series "Elementary" on CBS as "Dr. Joan Watson" alongside Jonny Lee Miller's "Sherlock Holmes". In 2013, Liu's portrayal of Watson earned her a Teen Choice Award and can also be seen on Hulu's "Difficult People."
Her portrayal of "Officer Jessica Tang" on the critically acclaimed series, "Southland" won a 2012 Critics' Choice Award for Best Guest Performer in a Drama Series and a 2013 NAACP nomination for Best Supporting Actress in a Drama Series. Liu also appeared as the unforgettable "Ling Woo" in the hit Fox series, "Ally McBeal," a role for which she earned an Emmy and Screen Actors Guild Award nomination for Outstanding Supporting Actress in a Comedy Series. She has also appeared in starring roles on the hit series "Cashmere Mafia" and "Dirty Sexy Money." She will next star in the dark comedy series, "Why Women Kill," created by Marc Cherry and set to begin filming this spring. The show will examine how the roles of women have changed over the course of many decades, but how their reaction to betrayal has not.
Liu also stars in the Netflix rom-com hit film, "Set It Up," co-starring Taye Diggs, Glenn Powell and Zoey Deutch, directed by Claire Scanlon. Her previous films include: "Charlie's Angels," "Charlie's Angels: Full Throttle," "Kill Bill," "Chicago," "Lucky Number Slevin," "The Man with the Iron Fists," "Detachment," "East Fifth Bliss," "Someday This Pain Will Be Useful to You" and many others.
Liu voices the role of Lady Sagami in the 2015 Academy Award® Nominated film "The Tale of The Princess Kaguya," produced by Frank Marshall and directed by Jamie Simone from an adaptation by Mike Jones. Variety calls the film a "visionary tour de force". Liu is also the voice of "Viper" in the trilogy for Paramount's animated smash hit "Kung Fu Panda" and as "Silvermist" in Tinkerbell's "Legend of the Neverbeast."
Off the screen, Liu is a talented director and producer as well. Her directing work for "Elementary" has led her to directing for other series, including the Season 2 Premiere episode of Netflix and Marvel's "Luke Cage," USA drama "Graceland", "Law & Order: SVU," and "Why Women Kill." She has produced the critically acclaimed film "Freedom's Fury", the short documentary, "Redlight" as well as co-directed and produced, a short docu-drama, "Meena," based on a chapter from the New York Times bestseller, "Half the Sky" by authors Nicholas Kristof and Sheryl WuDunn.
In 2006, Liu was awarded a Women's World Award for her outstanding humanitarian work, presented to her by former Pakistan Prime Minister Benazir Bhutto and sponsored by the World Award organization headed by former Russian President Mikhail Gorbachev. Other recognitions of her humanitarian work include the 2008 Danny Kaye Humanitarian Award and the 2016 Harvard Artist of the Year Award, given by the Harvard Foundation for her involvement with UNICEF and her body of work. Liu is also a member of the Academy of Motion Picture Arts & Sciences.
Additional accolades honoring her work include a 2012 New York Women in Film & Television Muse Award, the prestigious Best Drama Actress Award at the Seoul International Drama Awards, and three People's Choice Award nominations.