Judge Greg Mathis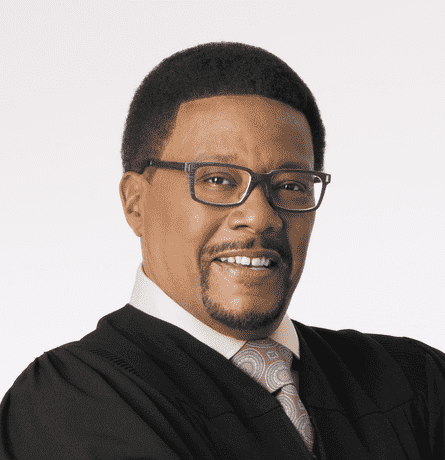 WHO:   Honoree: Judge Greg Mathis
Emcee: Hollywood Chamber of Commerce Chair Lupita Sanchez Cornejo  
Guest speakers:  Magic Johnson and Johnny Gill
WHAT:  Dedication of the 2,722nd Star on the Hollywood Walk of Fame in the Category of Television
WHERE: 7076 Hollywood Boulevard 
WHEN: Wednesday, May 4, at 11:30 A.M. PT   
The Hollywood Chamber of Commerce honored Judge Greg Mathis today with the 2,722nd star on the Hollywood Walk of Fame. The star was dedicated in the category of Television on 7076 Hollywood Boulevard.
"One of the criteria alongside industry excellence in order to be honored with a star, is philanthropy. Judge Mathis has shown to be a leader in this sector in many ways and we are very proud to add his name to our coveted sidewalk," stated Ana Martinez, Hollywood Walk of Fame Producer.
The Hollywood Chamber of Commerce, which administers the popular star ceremonies,  encourages, fans around the world to watch the event exclusively on www.walkoffame.com.
Joining Lupita Sanchez Cornejo for the star unveiling were Magic Johnson and singer Johnny Gill.
Judge Greg Mathis is a national figure known for his advocacy campaigns for urban youth, and equal justice. He is the longest-running African-American male host on television. His inspirational life story of a street youth who rose from jail to Judge has provided hope to millions who watch him on the Emmy Award-winning television court show Judge Mathis each day.
Judge Mathis's public service career began in college where he led Free South Africa and voter registration campaigns on campus, while also working nights at McDonalds as a swing manager. After graduating from college in 1983, he joined the staff of Detroit City Councilman Clyde Cleveland and continued to work as an advocate for equal justice with Reverend Jesse Jackson's PUSH Excel, where he currently serves as Chairman. Judge Mathis has also served as a national board member of the NAACP and the Morehouse School of Medicine.
Judge Mathis has received numerous awards and keys to the city from government officials and is the recipient of Honorary Doctorates from both Florida A&M University and Eastern Michigan University. He has been recognized for his efforts by numerous newspapers, magazines and television networks. He has appeared on such shows as The View, The Real, The Tonight Show with Jay Leno, The Today Show and Ellen.  He is also executive producer of the BET+ show American Gangster: Trap Queens.
JUDGE MATHIS is currently in its 23rd  hit season and has a full docket of cases that both engage and excite viewers from coast to coast. Inspired by Judge Greg Mathis' own gang-to-gavel story, Judge Mathis is the Daytime Emmy Award-winning nationally syndicated, court show presided over by former Detroit-area District Court Judge Greg Mathis. The show won the prestigious Daytime Emmy Award in 2018 for Outstanding Legal/Courtroom Program.
In each hour-long episode, Judge Mathis lays down the law, presiding over real, hard-hitting cases, and Mathis' decisions are legal and binding. The hallmark of Judge Mathis is the judge himself, as he combines a refreshing mix of social commentary, humor and humanity. His use of the bench to provide resolution and counseling to litigants before him during each episode has catapulted Judge Mathis to the forefront of a national dialogue about real issues facing contemporary society.
Judge Mathis is produced by AND Syndicated Productions and Telepictures Productions, an industry-leading and Emmy Award-winning producer of syndicated programming and distributed by Warner Bros. Domestic Television Distribution.
In his efforts to reach out to youth and ex-offenders both in and outside of the courtroom, Judge Mathis opened the Mathis Community Center in his hometown of Detroit and has assisted thousands of youth with his non-profit agency Young Adults Asserting Themselves (Y.A.A.T.), an agency that provides career, business start-up and job opportunities, as well as job training and college enrollment assistance.