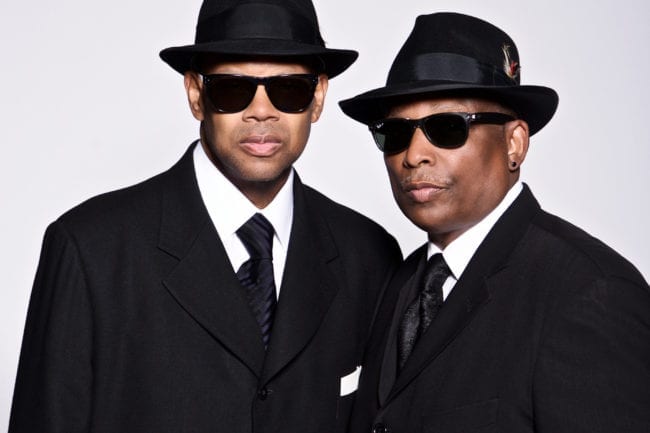 James Samuel "Jimmy Jam" Harris III and Terry Steven Lewis are an American R&B and pop-music songwriting and record production team. They have enjoyed great success since the 1980s with various artists, most notably Janet Jackson.
Jimmy is the son of Cornbread Harris, a Minneapolis blues and jazz musician. Jimmy met Terry in high school in Minneapolis and formed a band called Flyte Tyme, which evolved into the Time. In 1981, they were joined by Morris Day and toured with Prince as his opening act. As members of The Time, they recorded three of the group's four albums. The first two albums are said to have shaped early 1980s R&B music. In 1982 Jimmy Jam & Terry Lewis were introduced to Music Executive Dina R. Andrews who was then a key employee of Dick Griffey's Solar Records. The pair asked Andrews to manage them, and through her relationships Andrews first introduced Jam and Lewis to Music Executive Clarance Avant. They produced their first masters for Avant on the SOS Band. Andrews set-up Jam and Lewis's company Flyte Tyme Productions as a business entity, and continued shopping them to her other record executives. The producers went on to produce several other masters for Avant under Dina Andrews Management on SOS Band, Cherrelle, Alexander O'Neal and Change. Additionally, Andrews shopped the duo to many of the executives and artist who used their services, such as Klymaxx, Cheryl Lynn, and executives such as John McClain, Clive Davis, Sylvia Rhone, Warner Chapell, and many others.
The pair was fired by Prince from a tour because a blizzard left them unable to rejoin after a short break to produce music for the SOS Band. However, one of the tracks they were producing, "Just be Good to Me", became a big hit and sealed the duo?s reputation, as well that of the SOS Band. The duo would rejoin The Time for one album only, 1990?s Pandemonium. They were given song writing credit and the subsequent Grammy Award for Janet Jackson's 1997 "Got Til It's Gone," although J Dilla of Slum Village and the Soulquarians was the one that produced the record.