Idina Menzel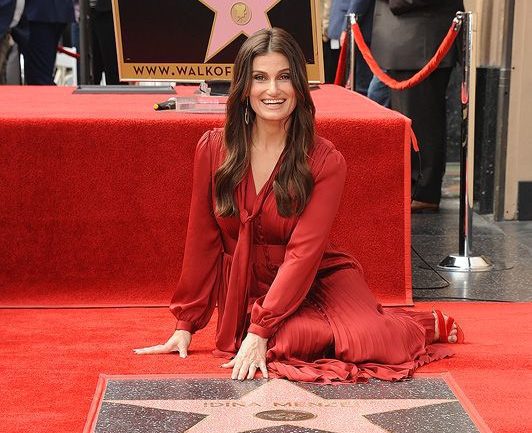 The Hollywood Chamber of Commerce was honored to present actresses Kristen Bell and Idina Menzel with the 2,681st and 2,682nd stars with special double star ceremony on the Hollywood Walk of Fame on Tuesday, November 19, 2019. PDT. The stars have been dedicated in the categories of Motion Pictures and Live Theatre/Live Performance respectively 6225 Hollywood in front of the Pantages Theatre.
Idina Menzel was born in New York. She started her career at the age of 15 when she began working as a wedding and bar mitzvah singer. This job carried her throughout her time at the renowned Tisch School of Arts where she earned a Bachelor of Fine Arts degree in Drama.
Menzel is a powerhouse of talent: a singer, an actor in film and TV, a songwriter, a Broadway star and a philanthropist. She rose to fame for her role as 'Maureen' in the popular Broadway musical "RENT", and her career took off when she won a Tony Award for her role as 'Elphaba, the Wicked Witch of the West,' in the smash musical, "WICKED". Her voice can be heard as 'Elsa' in Disney's Oscar® winning Frozen, the second highest grossing animated film of all time, with more than $1.2 billion in worldwide box office revenue. The film's signature song "Let It Go," voiced by Menzel, became an instant international phenomenon, winning the Oscar® for Best Original Song – where Menzel performed it at the ceremony – and the Grammy® Award for Best Song Written for Visual Media. The track reached #5 on the Billboard Hot 100, making Menzel the first artist with both a Billboard Top 10 hit and a Tony Award for acting. Menzel's new holiday album, "Christmas: A Season of Love," was released on October 18th and later this year she will also reprise her leading role as 'Elsa' in Frozen 2. This winter, she also joins Adam Sandler in the Safdie Brothers' A24 film Uncut Gems.
A skillful songwriter, Menzel's prolific recording career includes multiple cast albums and the solo albums: Still I Can't Be Still, Here, I Stand, and her latest album Idina., which was released September 2016 on Warner Bros Records. marks Menzel's first original studio album since 2008's I Stand, and its first two singles "I See You" and "Queen of Swords" are available everywhere now. The album was met with rave reviews, debuted at #1 on Billboard's Holiday Albums chart and gave Menzel a Top 10 album on the Billboard Top 200 Album Chart.
Menzel was previously seen on Broadway in the original production IF/THEN, for which she earned her third Tony nomination. "If/Then" which was followed by a nationwide tour. She also appeared as 'Sheila' in the Encores! production of "Hair" and starred as 'Amneris' in Broadway's "Aida". In London, she premiered the Broadway hit WICKED in the West End and received the Theatregoers Choice Award for Best Actress in a Musical. She also starred in Michael John LaChiusa's musical "See What I Wanna See."
Philanthropy is also important to Menzel, who co-founded the A BroaderWay Foundation in 2010. The organization is dedicated to offering girls from underserved communities an outlet for self-expression and creativity through arts-centered programs. The emphasis is on building self-esteem, developing leadership qualities and striving for personal and social achievement.
The Hollywood Chamber of Commerce which administers the popular star ceremonies encourages people who are unable to attend and fans around the world to watch the event exclusively on www.walkoffame.com.