Ali MacGraw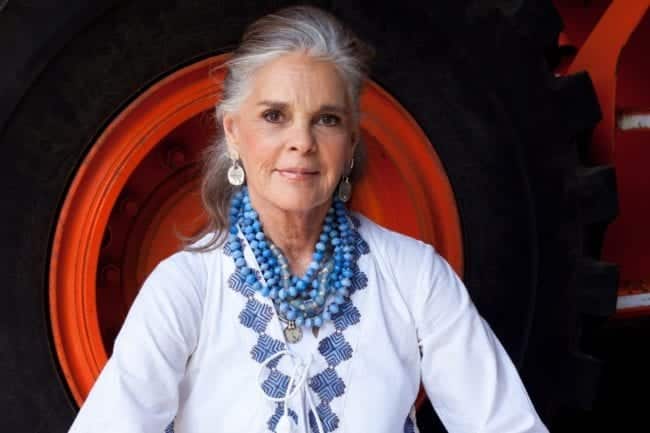 HOLLYWOOD CHAMBER OF COMMERCE HONORED ALI MACGRAW IN VIRTUAL DOUBLE STAR CEREMONY IN CELEBRATION OF THE 50TH ANNIVERSARY OF THE ICONIC FILM "LOVE STORY" AND VALENTINE'S DAY
WHO: Honorees: Ali MacGraw and Ryan O'Neal
Emcee: Hollywood Chamber of Commerce, President/CEO Rana Ghadban
WHAT: Dedication of the 2,692nd and 2,693rd Stars on the Hollywood Walk of Fame in the Category of Motion Pictures 
WHERE: The stars will be in place in their permanent location at 7057 Hollywood Boulevard
WHEN: Friday, February 12, 2021 at 11:30 AM 
The event will be live-streamed exclusively on all of the Chamber's social media platforms including www.walkoffame.com, www.instagram.com/hwdwalkoffame/ and https://www.youtube.com/user/HwdWalkofFame
 
COMMENTS:
The Hollywood Chamber of Commerce was proud to honor MacGraw with the 2,692nd in the first virtual double-star ceremony in history. The double ceremony, which saw both stars dedicated in the category of Motion Pictures, took place on February 12 at 11:30 AM in honor of Valentine's Day. The event  live streamed exclusively on the Walk of Fame social media and at www.walkoffame.com.
O'Neal and MacGraw both received Oscar® nominations for their starring roles in the timeless, unmatched tale from the heart, LOVE STORY. Based on Erich Segal's best-selling novel, LOVE STORY was nominated for seven Academy Awards®, including Best Picture, and became a cultural phenomenon, earning over $100 million at the domestic box office.  The film spent 15 weeks at #1 in the U.S., continuing to expand to more theaters because of its popularity and ultimately becoming the top-grossing movie of the year.
In 2002, the AFI named it as #9 on its list of the 100 greatest love stories of all time.
A timeless classic about the highs and lows of young love, the film remains as impactful as ever, 50 years after its original release.  Newly restored for its anniversary, LOVE STORY will be available in a limited-edition Blu-ray™ on February 9th with collectible packaging, commentary by director Arthur Hiller, a look at the film's impact, and more.
ALI MACGRAW
Ali MacGraw graduated from Wellesley college and began her professional career in 1960 as Diana Vreeland's assistant at Harper's Bazaar. After leaving Harper's Bazaar, she went to work as a stylist for fashion photographer Melvin Sokolsky in New York for six years. Ali's acting career began when producer Stanley R. Jaffe and director Larry Peerce offered her the leading role of Brenda Patamkin in the screen version of Philip Roth's short novel Goodbye Columbus.  She followed this by starring in the phenomenally successful film Love Story, which proved to be her major break.  The film earned Ali international fame, an Academy Award® nomination, a Golden Globe award, and many additional honors world-wide. Ali's third picture, The Getaway, co-starring her future husband, Steve McQueen, completed her trio of blockbuster films. After The Getaway, Ali took a five-year hiatus from Hollywood to raise her son. She returned to the screen to co-star in Sam Peckinpah's Convoy with Kris Kristofferson. Her other credits include the films Players and Just Tell Me What You Want as well as TV's The Winds of War and Dynasty.
Ali's autobiography, Moving Pictures (Bantam Books), climbed the New York Times Bestseller List and went on to become an international bestseller.
Ali travels extensively, appearing in documentaries and working on behalf of numerous social, animal and environmental causes.
WATCH THE CEREMONY: