Alan Arkin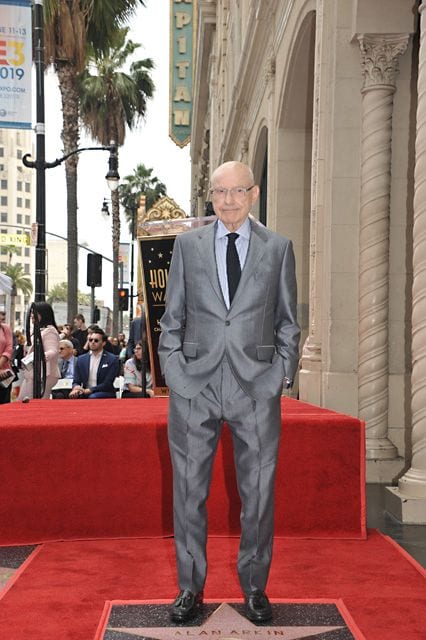 The Hollywood Chamber of Commerce honored  actor/director Alan Arkin will be honored with the 2,665th star on the Hollywood Walk of Fame on Friday, June 7, 2019  at 11:30 a.m. PDT. The star was dedicated in the category of Motion Pictures at 6914 Hollywood Boulevard in front the Minisao Store.
"Alan Arkin is long one of the most respected artists of the stage and screen" said Ana Martinez, Producer of the Hollywood Walk of Fame. We are proud to add this legendary performer's name to the Hollywood Walk of Fame" added Martinez.
Helping Emcee Rana Ghadban, President & CEO of the Hollywood Chamber of Commerce to unveil the star will be Walk of Famer Steve Carrell and Alan Arkin's son, actor Matthew Arkin.
The Hollywood Chamber of Commerce which administers the popular star ceremonies encourages people who are unable to attend and fans around the world to watch the event exclusively on www.walkoffame.com.
Born in Brooklyn, New York, Alan Arkin launched his career with Chicago's improvisational revue "The Second City." This led to his 1963 Broadway bow in the play "Enter Laughing," based on Carl Reiner's book, for which Arkin won a Tony Award. The following year, he starred on Broadway in Murray Schisgal's hit "LUV." He directed a string of off-Broadway hits that culminated in "The Sunshine Boys" on Broadway, which led to a Tony nomination for Arkin. In 1966, Arkin made his major feature film debut, starring in Norman Jewison's comedy smash "The Russians Are Coming, The Russians Are Coming." Arkin earned his first Oscar ® nomination for Best Actor and won a Golden Globe Award for his performance. He garnered a second Best Actor Oscar ® nomination for his performance in the 1968 drama "The Heart is a Lonely Hunter," for which he also won a New York Film Critics Circle (NYFCC) Award and received a Golden Globe nomination. Just after that he earned yet another Golden Globe nomination for the title role in "Popi." In 1971, Arkin made his feature directorial debut when he directed and starred in the underground classic "Little Murders" film.
With more than 70 films spanning over 50 years, his long list of credits also includes "Wait Until Dark"; "Catch-22"; "Little Murders," which marked his feature film directorial debut; "Hearts of the West," "The In-Laws"; "Edward Scissorhands"; "Havana"; "Glengarry Glen Ross"; "So I Married an Axe Murderer"; "Grosse Point Blank"; "Gattaca"; "Slums of Beverly Hills"; "Jakob the Liar"; "America's Sweethearts"; "Thirteen Conversations About One Thing," receiving another Spirit Award nomination; "Rendition"; and "Little Miss Sunshine" for which he won an Oscar for Best Supporting Actor, an Independent Spirit Award, a BAFTA Award, and shared a Screen Actors Guild (SAG) Award ® for Outstanding Motion Picture Cast, in addition to receiving an individual SAG Award ® nomination for Outstanding Performance by an Actor in a Supporting Role. He also earned Oscar® , BAFTA and Golden Globe Award nominations for his supporting performance in the Oscar ® winning Best Picture "Argo," which also won the BAFTA Award for Best Picture in 2013.
Last year, Arkin starred in the critically acclaimed Golden Globe Award winning comedy series "The Kominsky Method" for Netflix, which earned him SAG and Golden Globe nominations for his performance. Arkin has made appearances in "Going in Style," "Love the Coopers", "TV series "Bo-Jack Horseman", "Million Dollar Arm" co-starring with Jon Hamm, director Peter Segal's comedy "Grudge Match" with Robert De Niro and Sylvester Stallone; "The Incredible Burt Wonderstone" with Steve Carell and Jim Carrey; "Stand Up Guys" with Al Pacino and Christopher Walken, "The Muppets," and Tim Burton's "Dumbo" released earlier this year. Arkin will next be featured in "Minions 2" and in the Netflix film "Wonderland." He has also directed several short films, including "People Soup," which was Oscar ® -nominated for Best Live Action Short.
Arkin is involved with the following charities: Doctors Without Borders and Vedanta Society.