Tyler Perry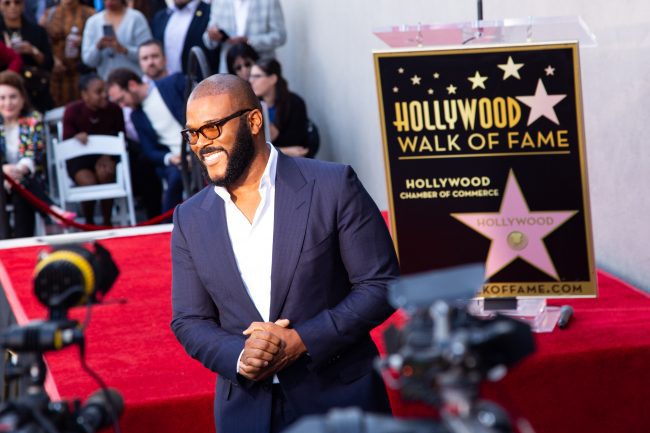 The Hollywood Chamber of Commerce honored movie mogul Tyler Perry with the 2,675th Star on the World Famous Hollywood Walk of Fame, in the Category of Motion Pictures, on October 1, 2019, in Los Angeles. The star has been dedicated in the category of Motion Pictures at 7024 Hollywood Boulevard.
"Tyler Perry is a force in the entertainment world. Coming from a world of poverty and pushing his way to the top – his creative work has been an inspiration for many people. We are proud to honor him for his work and perseverance and welcome our newest Walk of Famer!" said Ana Martinez, Producer of the Hollywood Walk of Fame.
Helping Emcee Rana Ghadban, President & CEO of the Hollywood Chamber of Commerce to unveil the star will be Walk of Famer will be actress Crystal Fox.
Born into poverty and raised in a household scarred by abuse, Perry fought from a young age to find the strength, faith and perseverance that would later form the foundations of his much-acclaimed plays, films, books and shows. His inspirational journey from the hard streets of New Orleans to the heights of Hollywood's A-list is truly legendary.
In the year 2000, I Can Do Bad All By Myself marked the first appearance of the now-legendary Madea. The God-fearing, loud-mouthed grandmother, Madea, was played by Perry himself. Madea was such a resounding success, she soon spawned a series of plays – Madea's Family Reunion (2002), Madea's Class Reunion (2003), Madea Goes To Jail (2005) – and set the stage for Perry's jump to the big screen.
In early 2005, Perry's first feature film, Diary of a Mad Black Woman, debuted at number one nationwide. His ensuing 10 Madea films have all been met with massive commercial success, delighting audiences across America and around the world.
In 2007, Perry expanded his reach to television with the TBS series House of Payne, the highest-rated first-run syndicated cable show of all time, which went into syndication after only a year. His follow up effort, Meet the Browns, was the second highest debut ever on cable – after House of Payne.  In late 2012, Perry teamed up with Oprah Winfrey in an exclusive deal to bring scripted programming to her cable network, OWN, and launched with the half hour sitcom, Love Thy Neighbor, and the hour-long drama, The Haves and The Have Nots, which made its debut in 2013 and has continued to break ratings on the network.  In August 2016, Perry debuted a new drama series called Too Close to Home on TLC, the network's first scripted series.  OWN recently premiered a House of Payne spinoff series, The Paynes, on the network in 2018. It was announced in July 2017 that Perry signed a multi-year content partnership with Viacom, in which he will produce original drama and comedy series across the Viacom networks, in addition to having a first-look feature film deal with Paramount Pictures group.
In the fall of 2008, Perry opened his 200,000 square foot Studio in Atlanta, situated on the former Delta Airlines campus in the Greenbriar area of southwest Atlanta. During the course of its operation, the space was home to production of over 15 films and over 800 episodes of Perry's five television series. In 2015, TPS announced plans to expand operations with the acquisition of Fort McPherson, which sits on over 330 acres.  Perry and the studio's Atlanta-based employees will remain in production of Perry's five current television series, in addition to major feature films and television shows filming in Atlanta.
Production is already underway at the new studio, which will contain twelve soundstages ranging in size between 10,000 and 60,000 square feet. The grand opening for Tyler Perry Studios is set for October 5, 2019.
In 2016, Perry reprised the role of "Madea" in Lionsgate's smash-hit Boo! A Madea Halloween, which spent two weeks at number one on the US box office.  The sequel to the film was released in October 2017 and took top spot at the box office on opening weekend.  In 2018 Perry also released Acrimony starring Taraji P. Henson with Lionsgate, and Nobody's Fool starring Tiffany Haddish, Tika Sumpter, and Whoopi Goldberg with Paramount. On the silver screen, Perry most recently can be seen on Adam McKay's Oscar-nominated film, VICE, about Dick Cheney, where he portrays "Colin Powell". In March 2019, Perry also his newest movie with Lionsgate, A Madea Family Funeral, which brought his popular character back to the big screen for her final moment.
But listen to Tyler and you'll hear a man who hasn't forgotten about the people that have helped him reach the top of a mountain he could once only dream of climbing. Research into his history of philanthropic acts, and you'll find that Tyler gives from a personal place, aiding people and charities that help others overcome the obstacles that he, too, once faced. And on a grand scale. He has been intimately involved and donated generously to civil rights causes through work with the NAACP and NAN. He also strongly supports charities that focus on helping the homeless, such as Global Medical Relief Fund, Charity Water, Feeding America, Covenant House, Hosea Feed the Hungry, Project Adventure, and Perry Place – a 20-home community that Perry built for survivors of Hurricane Katrina in New Orleans. In January 2010, Perry pledged $1,000,000 via The Tyler Perry Foundation to help rebuild the lives of those affected by the earthquakes in Haiti and another $1,000,000 in 2017 to help Hurricane Harvey victims in Texas. After Hurricane Maria, he personally sent a plane full of supplies to Puerto Rico and ensured the return was filled with a group of survivors. Perry did so again in September 2019 to help victims of Hurricane Dorian in the Bahamas.