Phil McGraw
HOLLYWOOD CHAMBER OF COMMERCE TO HONOR TALK SHOW HOST
DR. PHIL MCGRAW WITH STAR ON THE HOLLYWOOD WALK OF FAME
WHO:         Honoree: Dr. Phil McGraw
Emcee: Hollywood Chamber of Commerce, President/CEO Rana Ghadban
Guest Speakers:   Ronnie Dunn and Tyler Perry
WHAT:       Dedication of the 2,688th Star on the Hollywood Walk Of Fame
in the Category of Television
WHERE:    6201 Hollywood Boulevard in front Eastown Development
WHEN:      Friday, February 21, 2020 at 11:30 A.M. PST  
The event will be live-streamed exclusively on www.walkoffame.com
The Hollywood Chamber of Commerce is proud to announce that Dr. Phil McGraw will be honored with the 2,688th star on the Hollywood Walk of Fame on Friday, February 21, at 11:30 a.m. PST. The star will be dedicated in the category of Television at 6201 Hollywood Boulevard.
Helping Emcee Rana Ghadban, President & CEO of the Hollywood Chamber of Commerce to unveil the star will be Walk of Famers David Foster and Tyler Perry.
The Hollywood Chamber of Commerce which administers the popular star ceremonies encourages people who are unable to attend and fans around the world to watch the event exclusively on www.walkoffame.com.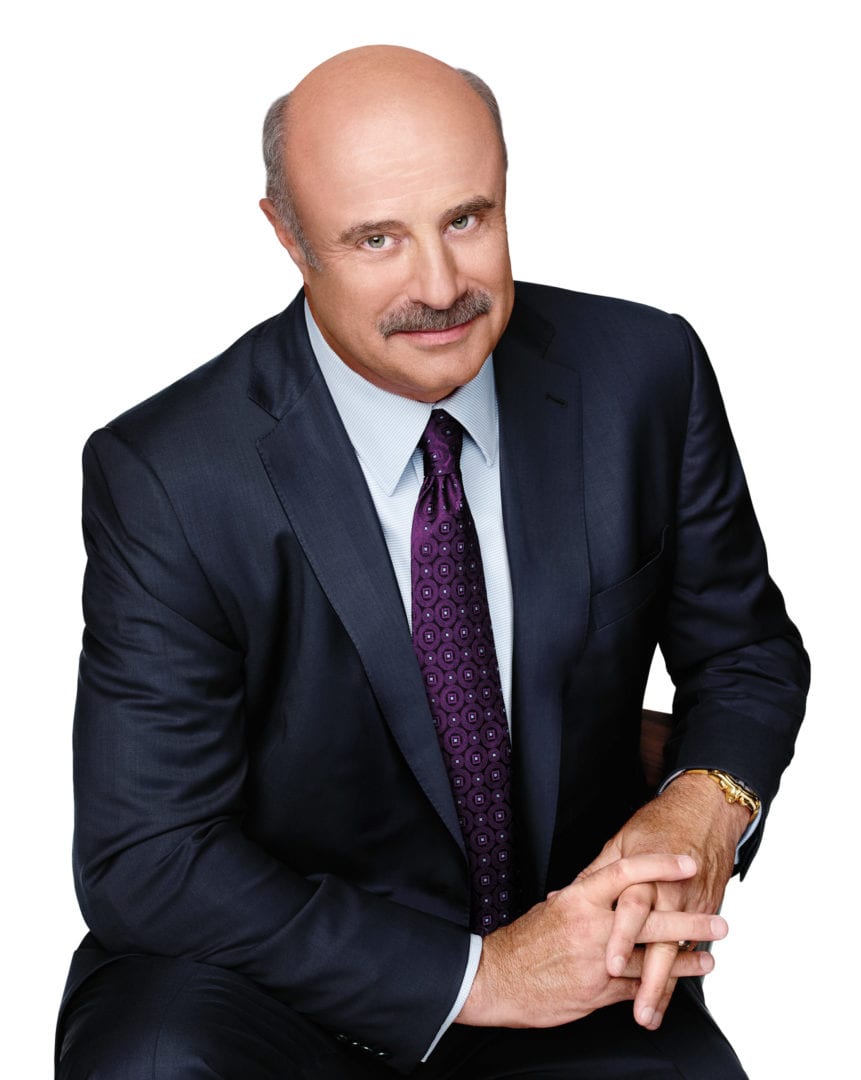 Dr. Phil McGraw, one of the most well-known and trusted mental health professionals in the world, is the host of TV's #1 daytime talk show, DR. PHIL. Now in its 18th season, this trailblazing – and award-winning – show continues to provide the most comprehensive forum on mental health issues in television. Using the medium of television, Dr. McGraw has a unique ability to take complicated and technical information and make it accessible and understandable to the general public by presenting compelling stories about real people. His show is lauded for stripping away the shame and embarrassment that too often keeps people from seeking help. Determined to help all, Dr. McGraw insists that the information provided on his show is based on evidence-based treatment options and state-of-the-art research in the fields of psychology, psychiatry and medicine. Since its inception, the show has provided over $35 million in aftercare services for its guests. Dr. McGraw recently signed a multi-year deal with CBS Television Distribution to continue his eponymous show through 2023. DR. PHIL has received 29 Emmy® nominations and won five PRISM Awards for the accurate depiction of drug, alcohol and tobacco abuse and addiction, as well as a MADD (Mothers Against Drunk Drivers) Media Award. In 2015, he was inducted into the Broadcasting & Cable Hall of Fame, an honor bestowed on the pioneers, visionaries and stars of the electronic arts.
McGraw earned a Doctoral degree in clinical psychology from the University of North Texas, followed by a post-doctoral fellowship in forensic psychology from the Wilmington Institute. His work at Courtroom Sciences, Inc., a groundbreaking trial science firm, which he founded, inspired the hit CBS series, BULL, staring Michael Weatherly, where Dr. McGraw serves as co-creator, executive producer and writer on the show that is based on his life. BULL, now in season four, is one of the top-rated dramas at CBS. In addition, Dr. McGraw won an Emmy Award as executive producer of the hit talk show, THE DOCTORS, which is currently in its 12th season. In 2018, Dr. McGraw scored another Emmy as executive producer, when the daily syndicated newsmagazine, DAILYMAILTV, (currently in season three) won Outstanding Entertainment News Program. His podcast, PHIL IN THE BLANKS – with all-new, original interviews – debuted in January 2019 and quickly rose to the #1 podcast on Apple iTunes. In spring 2019, McGraw launched a second podcast – a true crime series – MYSTERY AND MURDER: ANALYSIS BY DR. PHIL, which debuted at #1.
Dr. McGraw is the author of nine #1New York Times bestsellers, published in 39 languages with more than 33 million copies in print. Dr. McGraw has devoted his platform to the delivery of sound, evidence-based mental health advice for the last 17 years and has continually strived to make psychology accessible and understandable to the public using the medium of television. In 2006, he was honored with a Presidential Citation by the American Psychological Association for his significant contributions to the field of psychology. The citation read in part, "your work has touched more Americans than any other living psychologist."
Dr. McGraw is frequently invited to testify as a content expert on Capitol Hill before Congress on high-profile topics, including the overmedication of children in the foster care system, the growing epidemic of type 2 diabetes, cyberbullying, opioid addiction, and domestic violence. Dr. McGraw is also regularly called upon for his expert opinion on current events by major national and international news outlets as well.
Dr. McGraw and his wife, Robin, are well-known for their tireless advocacy for children and families. He and Robin have also supported many charitable organizations including the Court Appointed Special Advocates (CASA) by devoting countless hours to CASA's recruitment project and generating an increase of $100 million of volunteer services in just one year. Today, their charity organization, When Georgia Smiled: The Robin McGraw Revelation and Dr. Phil Foundation, works to provide safe and joy-filled free lives free of domestic violence and sexual assault.
★★★
All press must RSVP ONLY to Ana Martinez, Producer of the Walk of Fame