Cypress Hill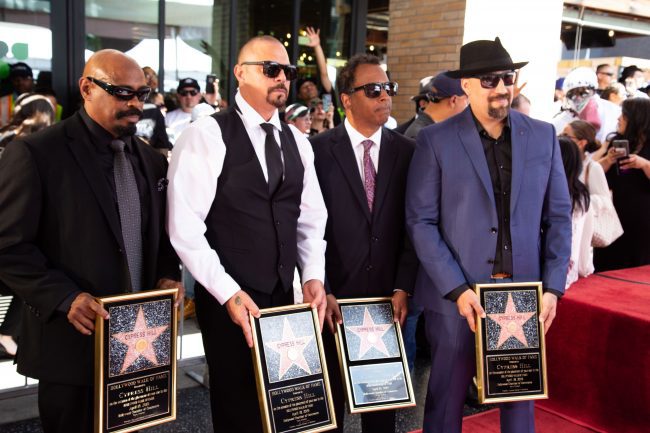 The Hollywood Chamber of Commerce honored entertainers Cypress Hill with the 2,660th star on the Hollywood Walk of Fame today, April 18, 2019. The star, dedicated in the category of Recording, was placed at 6201 Hollywood Boulevard in front of Green Leaf Restaurant at Eastown.
"We are proud to honor the first Latino American hip-hop recording group," said Ana Martinez, Producer of the Hollywood Walk of Fame." "They have been successful as a group for three decades and we know they will continue their success for many years to come," added Martinez. Hollywood Chamber of Commerce members Green Leaf Restaurant created a special drink in honor of Cypress Hill called the Dr. Green Thumb Cocktail!
Helping Emcee Rana Ghadban, President & CEO of the Hollywood Chamber of Commerce to unveil the star were actor George Lopez and Xzibit. Other celebrities on hand for the event included: Alchemist, Tommy Chong, Chuck D, Billy Graziadei, Electric Boots, DJ Lord, Tom Morellos and manyothers. The Hollywood Chamber of Commerce which administers the popular star ceremonies encourages people who are unable to attend and fans around the world to watch the event exclusively on www.walkoffame.com.
Cypress Hill, comprised of B Real, Sen Dog, DJ Muggs, and Eric "Bobo" Correa, were the first Latino-American hip-hop group to have RIAA certified platinum and multi-platinum albums and are widely respected as one of the most important groups in hip-hop history.
In 1991, their self-titled debut album sold over 2 million copies. With their debut album still at the top of the charts, they became the first rap group to have 2 albums in the top 10 of the Billboard 200 at the same time when their second album, Black Sunday, debuted at #1 on the Billboard 200 in 1993 and celebrated its 25th anniversary last year. The album went on to be certified triple platinum and features their hit "Insane in the Brain", dubbed one of the "100 greatest Hip Hop songs" by VH1.
The Grammy nominated, group has gone on to sell over 18 million albums worldwide. Sampled by everyone from JAY-Z and the Black Eyed Peas to A$AP Rocky and Vic Mensa, Cypress Hill paved the way for contemporary artists like Luis Fosi and Cardi B.
The group recently released their ninth studio album, Elephants On Acid. Framed as a rap odyssey, the album takes listeners around the world and through other dimensions while preserving the dynamism for which the group became known.
Even with a relentless touring schedule, Cypress Hill have never forgotten their neighborhood of South Gate and continue to call Los Angeles home. They continue to support the community through scholarship programs and work with organizations like Guns for Goods, a gun buyback program to help get guns off the streets and away from the hands of children, the Wounded Heroes of America, and the Make-A-Wish Foundation.