Kristen Bell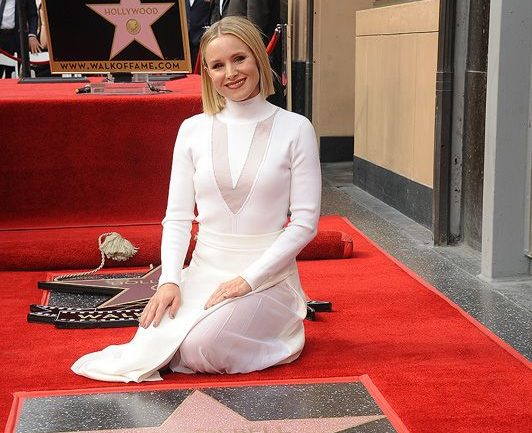 The Hollywood Chamber of Commerce is proud to announce that actresses Kristen Bell and Idina Menzel will be honored with a special double star ceremony with the 2,681st and 2,682nd stars on the Hollywood Walk of Fame on Tuesday, November 19, at 11:30 a.m. PDT. The stars will be dedicated in the categories of Motion Pictures and Live Theatre/Live Performance respectively 6225 Hollywood in front of the Pantages Theatre.
"The Hollywood Walk of Fame makes an extra special effort to pair artists who work together or are related with their stars next to each other" said Ana Martinez, Producer of the Hollywood Walk of Fame. "We are thrilled to place Kristen and Idina who are the stars of the Disney film 'Frozen' together in front of Hollywood's most historic theatres" added Martinez.
Kristen Bell was born in Detroit Michigan. She found her talent in entertainment at an early age. In 1992, she went to her first audition and won a role in "Raggedy Ann and Andy". After graduating from Shrine Catholic High School, Bell moved to New York City to attend the prestigious Tisch School of the Arts, where she studied musical theater. In 2001, she left university to play the role of Becky in "Tom Sawyer" on Broadway. In 2002, Bell appeared in the Broadway revival of "The Crucible" with Liam Neeson. She then moved to Los Angeles and appeared in a handful television shows as a special guest. At age 24, she won the title role of seventeen-year-old detective Veronica Mars. This series remains a cult classic, and Bell received much attention for her award nominated performance. In 2014, Bell reprised her beloved title role in Warner Bros' film "Veronica Mars," which raised $2 million on Kickstarter in less than 11 hours and broke the record at the time for the fastest project to reach $1 million and $2 million.
Bell currently stars in the NBC series "The Good Place," opposite Ted Danson, which is now airing its fourth and final season. Additionally, Bell is executive producing and appearing in a second season of "Encore!" that will air on Disney's streaming platform Disney+ in 2019. Bell recently starred in "A Bad Moms Christmas," alongside Mila Kunis and Kathryn Hahn. The film is a sequel to 2016's "Bad Moms," the first STX film to gross more than $100 million domestically.
In 2016, Bell appeared as Jeannie Van Der Hooven in Showtime's "House of Lies" opposite Don Cheadle, which wrapped its fifth and final season. She appeared in a guest-starring arc on NBC's hit series "Parks & Recreation" and played the lead role in the independent film "The Lifeguard," which premiered at the 2013 Sundance Film Festival.
Her other film credits include: "Forgetting Sarah Marshall," "PANDAS," "Teen Titans Go! to the Movies," "Like Father," "CHIPs," "How To Be A Latin Lover," "The Lifeguard," "The Boss," "Hit & Run," "Movie 43," "Some Girls," "Writers," "Big Miracle," "You Again," "Burlesque," "When in Rome," "Couples Retreat," "Pulse," "Serious Moonlight" and David Mamet's "Spartan." Her television credits include: "Parks & Recreation," "Unsupervised," "Deadwood," "Heroes" and "Party Down," and of course, Disney's "Frozen".
Bell is a believer in giving back. She has donated her time to many charities including: This Bar Save Lives, United Nations Women's Peace and Humanity Fund, No Kid Hungry, Children's Miracle Network and many others.